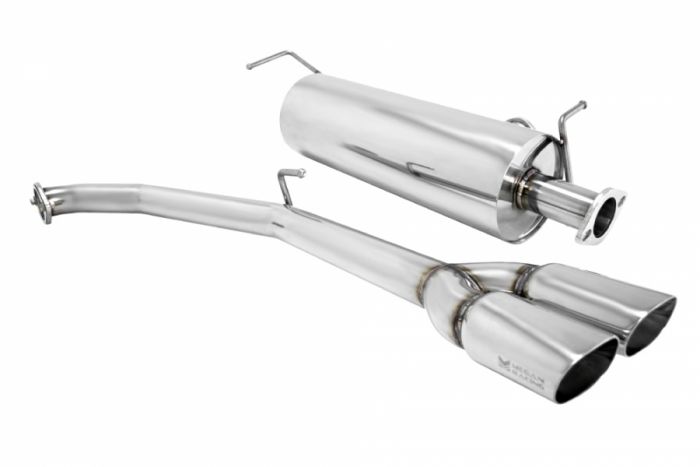 Megan's axle back exhaust system is a great and easy way to add performance and looks to your Toyota Sienna Minivan.
Designed as a direct bolt-on to replace the stock piece, this axle-back system works in conjunction with the OEM Mid-Pipe and is easy to install within minutes.
Constructed of T-304 Stainless Steel and polished to a mirror finish, this Axle-Back system offers free-flowing performance over your OEM restrictive exhaust system. Being constructed of Stainless-Steel, this exhaust piece is much more lighter than your OEM system and offers increased Power:Weight ratio that plays an important role on your cars' handling and performance.
Specifications & Features:
-Toyota Sienna (SE model only) 2011+
-2.5" Piping
-Dual 3.5"x 2.75" Stainless Roll Oval Tips design
-Easy installation
- Decibel Readings:
- Idle - 71db
- 3K RPM - 74db
- 5K RPM - 88db
- Redline - 90db
NOTE: All Megan Racing Exhaust and Suspension products are deemed for "off-road use only"-- please check local laws regarding the modification of the exhaust systems by checking the vehicle code for your state. Many states are more stringent on exhaust modification laws and to pass SMOG. Please check your local laws.