2011+ Sienna Tein Street Coilovers
Tein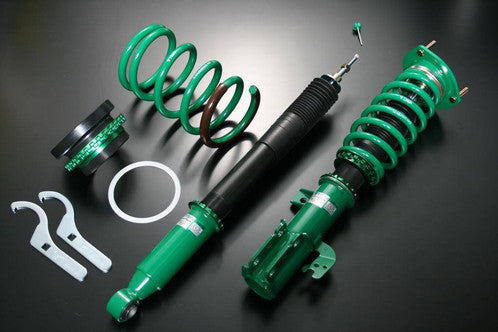 The Tein Street coilovers are finally available for the Sienna!
These coilovers are engineered in Japan and boasts a number of features:
• Steel Construction
• Twin Tube Internal Construction
• Full-Length Adjustable via Threaded Body and Spring Seat/Seat Locks
• 16-Way Damping Adjustable (simultaneous compression and rebound)
• New Damper Valving Specifications for Improved Street Comfort
• Incorporated Advance Needle Design (nearly 200% improvement over predecessor)
• Pillowball Upper Mounts for increased steering feedback
• Camber Adjustable for Strut Type Front Suspensions
• Larger Piston Diameter (22mm O.D.) for Strut Type
• EDFC (Electronic Damping Force Controller)/EDFC Active Compatible
• Powdercoated Brackets and ZT Coated Shellcase for Outstanding Rust Prevention
• One Year Warranty Against Manufacturer's Defects One of the most notable features is its ability to use Tein's EDFC system which allows you to control dampening on the fly with a push of a button.
Tein now has 3 EDFC systems. EDFC II is their entry level, traditional system. EDFC Active is their new system which lets the system adjust dampening based on the G-force and speed of the vehicle in 2 sections, front and rear.
The last one EDFC Active PRO is the flagship model which is very similar to EDFC Active but this one allows for more features such as independent shock control where each shock is adjusted individually by the system automatically.
For more info please visit: http://www.tein.com/products/edfc_active_pro.html
SPECIAL ORDER item so please give us 6-8 weeks to receive the order if not in stock in Tein warehouse.
FREE SHIPPING to all US states EXCEPT Hawaii and Puerto Rico