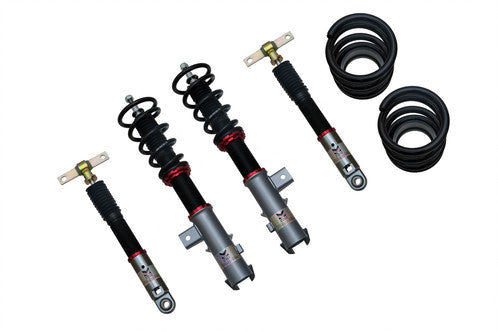 Megan Racing Coil-Over Dampers are the ultimate upgrade to your track or street car. Featuring 32 levels of damper force adjustment, separate spring perch height and shock length adjustment allowing you to retain full suspension stroke and to fine tune your suspension characteristics. These damper kits are then perfectly matched with front and rear Pillow Ball upper mounts, including camber plates integrated with the upper Pillow Ball mounts on strut-type suspension applications.

Height adjustments are made with separate CNC-Machined locking spring perches for accuracy and smooth adjustment with separate damper shock length adjustment to retain full-stroke and allows for precision suspension tuning. The wide range of allowable ride-height adjustment allows for a conservative drop to more aggressive ride heights for an aggressive stance, or to fine tune your suspension for the circuit to gain full potential of your vehicle's handling capabilities.

On applications utilizing strut-type suspension designs, the Megan Racing Damper Kits come with fully adjustable Pillow-Ball upper mount camber plates to easily tune and adjust your camber, giving you a competitive edge over other suspension setups. This allows you to tune your car for any ride height and still adjust camber to improve handling, vehicle predictability and tire wear, which is a great benefit both on the race-track and on the street.

- 32 Levels of Damper Force Adjustment

- Front camber plates included

- Rubber Dust Boots

- Adjustable Ride Height

- Aggressive Spring Rates

- Single-Cylinder Design

- Aluminum Brackets

32 Levels of Adjustment:

1-8: Suggested for track use.
9-16: Suggested for mountain/aggressive use.
17-32: Suggested for common street use.

- All coil-over damper kits come with 1 year manufacturer-defect warranty.

- All Hardware is Included
 
 
FREE SHIPPING to all states except Hawaii and Puerto Rico.