2017+ Chrysler Pacifica Megan Racing Coilovers
VANkulture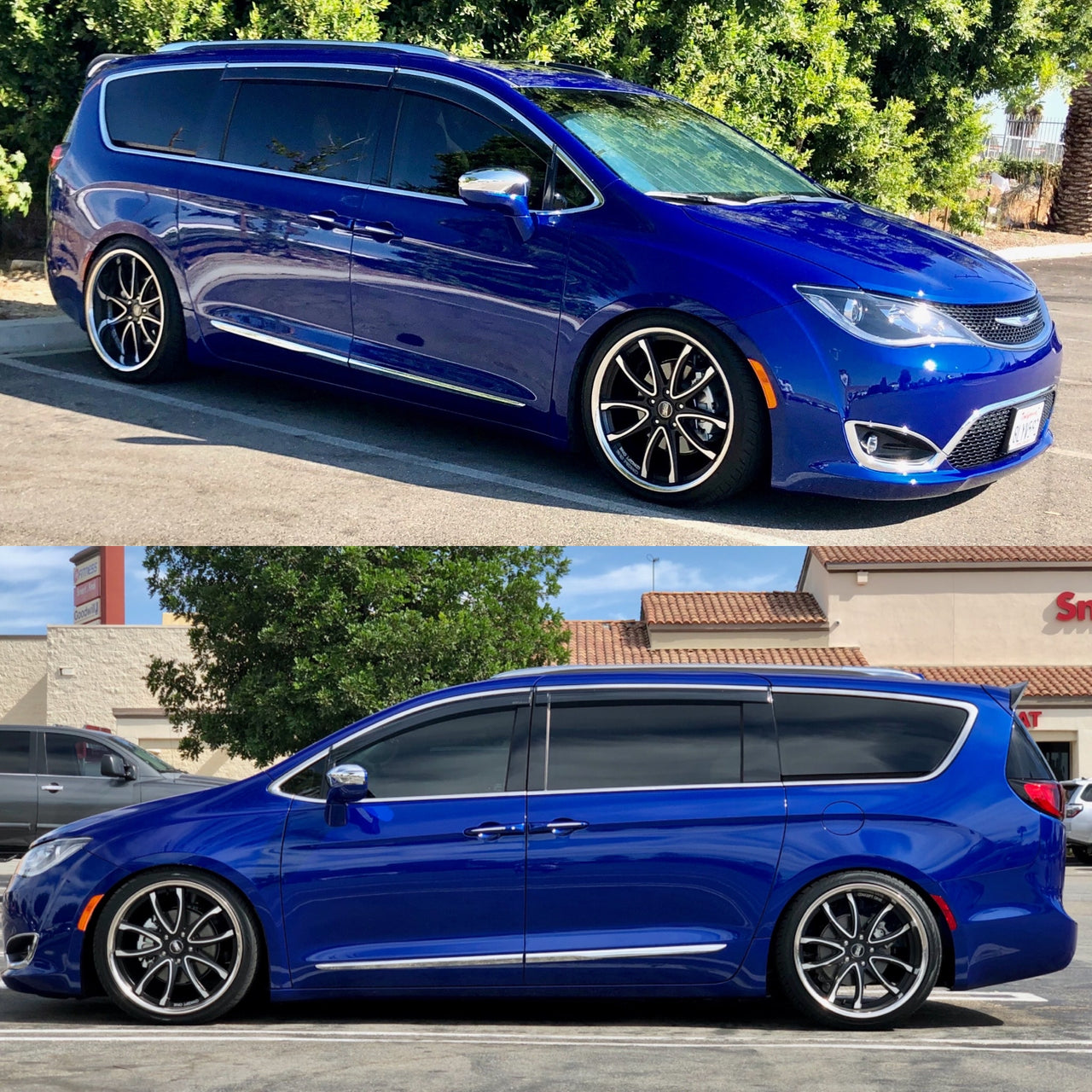 Make: 2017+Chrysler Pacifica and Pacifica Hybrid
Includes:
- Brand new set of Megan Racing coilovers
- Adjustable wrenches and hardware
- Original packaging and paperwork
- One year limited warranty
 
FREE SHIPPING TO 50 STATES EXCLUDING HI AND PR. 

Description:
The Street LP Series is our new Luxury Package, using similar specs & set up design as Street Series, ( not too aggressive) offering spring rates for a more comfortable ride, but still giving you the sporty feel & control.
 Megan Racing Coil-Over Dampers are the ultimate upgrade to your track or street car. Featuring 32 Levels of damper force adjustment, full-height adjustment, these damper kits are then perfectly matched with front and rear Pillow Ball upper mounts for camber correction in most applications.
 The adjustment of the damper is as simple as can be with a built-in knob at the top of the damper mount for easy access. Simple adjustments can be made to tune to your style.
 The height adjustment is made easy with CNC-Machined locking perches for accuracy and smooth adjustment. You can raise your car up to factory height for OEM appearance with performance handling or you can drop your car all the way down for a formal racetrack and an aggressive stance lowering your center of gravity to gain full potential of your car¡¯s handling capabilities.
 On most applications, the Megan Racing Damper Kits come with fully adjustable Pillow-Ball upper mounts to easily tune and adjust your camber. Adjustable camber gives you an edge on most suspension setups, as you can easily tune your car for any ride height which improves handling, predictability and furthermore tire wear, which is a great benefit both on the racetrack and on the street.
 The quality and durability of the Megan Racing Damper kits are unmatched. 
Features:

 - 32 Levels of Adjustable Damper Strength
 - Pillow Ball Upper Mounts
 - Rubber Dust Covers.
 - Adjustable Ride Height
 - Aggressive Spring Rates
 - Single-Cylinder Design
 - Aluminum Brackets
 - 32 Levels of Adjustment:
 - All coilover damper kits come with 1 year manufacture-defect warranty.
 - All Hardware is Included