2016+ Mercedes Metris UAS Air Suspension kit
VANkulture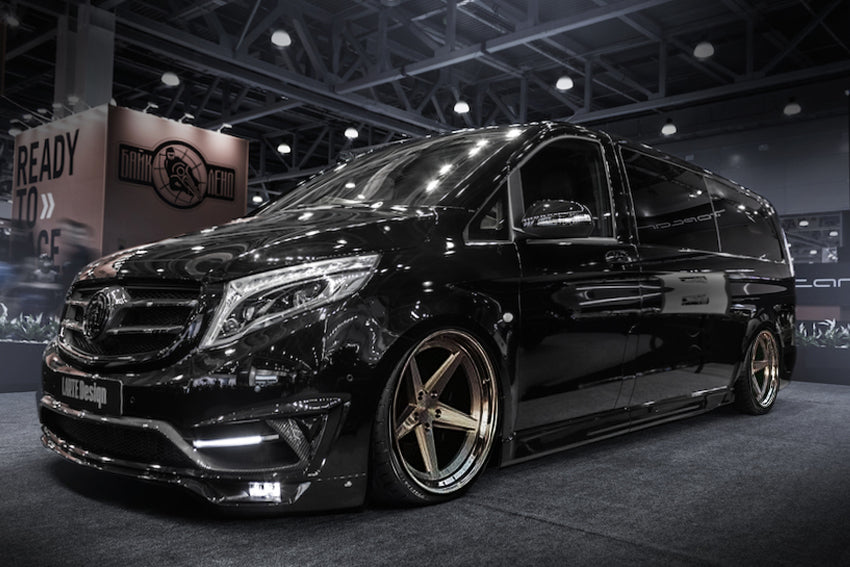 This UAS Solution Series kit is now available for the 2016+ Mercedes Metris. Kit is made to order and takes about 3-4 weeks before it ships.
ALL Management kits include compressors, tank, and all necessary wirings and fuse etc. 
There is an option to get your own management or order it with management already. If you have any questions regarding the kit please email us or call us. 
The Solution Series, a Vehicle Specific , complete air spring and strut package that increases comfort, boosts performance, and fits perfectly. Engineered by specialists with a minimum of 15 years of air suspension experience in the Custom Car Industry.
We've teamed up with countless companies to design an air spring and strut solution to address the fitment, installation and ride issues most custom cars experience. The common issue of a system being too fat or too tall for an application has been solved, and then further developed to give you the high performance, comfortable ride you've been looking for.
ELEVATE PERFORMANCE AND DRIVEABILITY – Propriety dampers. We chose the propriety damper because it's stiff enough to maintain high performance levels, and relaxed enough to provide an enjoyable the drive.
IDEAL RIDE HEIGHT AND MANEUVERABILITY – Extended travel single bellow bags, Trusted Airhouse bags, thin upper strut mount, and sealed bearings. Allows for vehicle to be laid all the way down while maintaining tire clearances and the ability for high suspension travel.
COMPLETE BOLT IN INSTALLATION – Length adjustable complete assemblies for an easy install and ultimate tuneability with basic hand tools.
BUILT TO LAST – Highest quality, brand name components for the most rugged package. Engineered, machined, hand-built and tested in-house. Machine tested to failure, and road tested though the biggest pot holes, speed bumps, and driveways you can throw at it.
Features
Upper Strut Mount – Machined from 6061-T6 aluminum featuring a spherical bearing for articulation and rubber isolation.
Sealed Rotary Bearing – Keeping the moisture and dirt out with a Sealed Rotary Thrust bearing
Bag Caps – Machined from 6061-T6 aluminum, Hard anodized, for ultimate durability.
Single Bellow Bag – Extended travel, Single convoluted bag to squeeze into the compact suspension to maintain tire clearances and achieve maximum drop.
Air House 2 – High Performance, extremely low collapsed height for maximum perforamnce.
Dampers – Tuned threaded body, length adjustable dampers for the ultimate in ride comfort, drop and corner carving performance.